Countertop
A countertop, counter, benchtop, worktop or kitchen bench is a raised, firm, flat, and horizontal surface. They are built for work in kitchens or other food preparation areas, bathrooms or lavatories, and workrooms in general. The surface is frequently installed upon and supported by cabinets, positioned at an ergonomic height for the user and the particular task for which it is designed.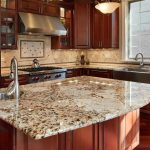 Many types of natural stone are popular choices for a kitchen countertop, and of these, the most popular option is a countertop made from a solid slab of granite. Beginning life as a quarried slab of solid natural stone, granite countertops are fabricated to specification and installed by professional crews.
Pros
Solid granite slabs make very heavy and durable countertops.
No two pieces of granite are alike, making each countertop entirely unique.
Considered a premium building material, granite countertops tend to improve home real estate values.
No-seam countertops are usually possible.
Cons
Granite is a fairly expensive material.
Granite is not a DIY-friendly material—it must be installed by pros.
Countertop

- Quartz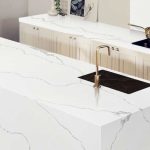 Quartz countertops are one of the latest and greatest synthetic countertop materials. This material is composed of pulverized waste rock plus resins for hardness and binding. Thus, quartz countertops are not solid slabs of quartz mineral but instead are an engineered stone product. Many quartz counters have antibacterial agents added. Quartz is rapidly overcoming solid-surface material as a convincing alternative to natural stone for countertops.
Pros
These are very beautiful countertops due to the inclusion of quartz crystals and other natural minerals.
Quartz countertops are highly sought after, creating high resale value in a home.
Many different colors and styles are available.
These countertops are more durable and less susceptible to scratching than a solid surface.
Cons
Quartz countertops are exceedingly heavy.
Quartz countertops are quite expensive—on a par with natural granite.
Must be installed only be experienced installers. There is no DIY option.